Horses
For many of the world's inhabitants, the horse is a working animal, crucial to their lives; for others, it is a treasured or prestigious hobby.
In this exhibition, the photographer Yann Arthus-Bertrand portrays the horse and its importance for people the world over.
The 100 magnificent photographs are displayed in subdued lighting to allow their deep glow to be revealed in the best possible light. A shop sells books, posters and postcards.
The world premiere of Horses was opened by HRH The Crown Princess Mary of Denmark in Copenhagen in autumn 2004. It was a major success and was followed by a further exhibition in Kulturhuset in Stockholm in May the following year.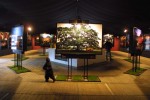 World Premiere of Horses in Copenhagen.
The first ever exhibition of Horses was opened in Copenhagen by HRH The Crown Princess [...]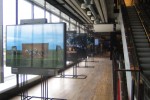 After the world premiere of Horses in Copenhagen, the exhibition moved to neighbouring Sweden, where it opened in the community [...]